What is Google My Business?
Ensuring that your potential customers can easily find details about your business in the search engine results pages (SERPs) is an integral part of local SEO. Google My Business (GMB) is the most powerful way of ensuring you appear in locally based search results. It will also enable your business details to appear in a dedicated Google My Business listing to the right of the search results when people conduct brand related searches (this includes details such as your logo, address, phone number, customer reviews, opening hours and photos). This lets your potential customers know precisely who you are, what you offer, and where they can find you.
Your potential customers want to locate the information they need about your business as efficiently and effectively as possible and Google My Business is the best way to allow them to do this. In local SEO terms it's an absolute must.
Google My Business Experts
Black Diamond Marketing Specialize In Getting Businesses More Exposure Online
WITHOUT SEO
WITHOUT Google Adwords 
WITHOUT Facebook Ads
We Rank Local Businesses In The Google 3 Pack By Using Black Diamond's 'Secret Sauce' Method.
We Guarantee That We Will Rank Your Business OR We Refund You 100% Of Your Initial Costs AND Continue Working For FREE Until You Are Ranked.
Bold Claim?
Well, That's How Confident We Are That We've Perfected Our Google My Business Optimization Model Down To The Last Detail And How Confident We Are That Our System Will Work To Drive More Customers To Your Business Within 30 days.
Let's put it this way, we're yet to issue a refund! Contact Benjamin Today & Discover How Our 'Secret Sauce' Method Can Offer You An Amazing Return On Investment.
Is Your Google My Business Listing Optimized? 
Google My Business Facts​
more likely to vistit/contact/make a purchase with a fully optimizied GMB page.
of customers use Google to find information on local purchases, much of which is from their GMB page.
of customers trust online reviews the same or more than personal reccommendations
look up locations of local businesses on Google Maps (often via the GMB page)
Fully optimizied GMB pages generate 700% more clicks and enquiries than unclaimed and partially completed GMB pages.
GMB provides us with the opportunity to directly manage how your business information is presented to Google users. We are able to tailor your online presence in order to demonstrate that you are a reputable and credible business, keen to interact with your audience, meet their needs and exceed their expectations. It will also help establish your reputation through the display of customer reviews.
Engaging with customer reviews, posting videos and behind the scenes photographs, and including real-time updates covering new developments or promotional offers all help to humanise your business and boost click through rate (CTR) from within the SERPs.
Access to detailed insights will also provide key contextualising information that we can use to further inform our digital approach for your business. Understanding how your audience discovered your business, which search terms they used, and how many visitors made contact directly as a result of your phone number or business address being displayed in organic search and maps results pages, is essential to establishing the success of our local SEO strategy.
The Terrace Tea Room
When you're running a cafe/restaurant, things can get really busy - especially on weekends. The last thing on our minds was checking if customers can easily find us when they're searching online. After working with Black Diamond Marketing, they helped optimize our website and our phone won't stop ringing with customers asking for reservations. They definitely helped us get more business for our restaurant.
OakFields Dentistry
Our owner was looking for real ROI from our digital marketing efforts - the measureable kind. It took about 2 months for the traffic to take a significant turn upwards and we started to receive an increase in our lead volume. We were easily able to secure a higher investment from the board, based on Black Diamond Marketing's impressive results. My confidence grew with every presentation Benjamin gave us as I had good news to report every month. Our problem now, is fulfilling the high volume of investment opportunities we created.
Rapid Plumbers Leeds
Our industry is extremely competitive and we were looking for a way to reach as many new clients as we could. We decided to give Black Diamond Marketing's Google My Business management a try, although we were very unfamiliar with it. We decided to track where all our paid leads were coming from. We trusted Ben's experience and advice and we were kept updated with regular reports on results and progress. After a couple of months, phone calls from prospective clients increased massively which directly affected our bottom line. Our return on investment over 6 months has been over 2000% and we are projecting an ongoing return for years to come.
Why is Google My Business
important for SEO?
Searches conducted with local intent are far more likely to result in visits, both to your premises and to your website, ultimately resulting in a positive impact on sales and conversions. This is because local SEO strategies reach a clearly targeted local audience often looking for a local business.
As Google My Business can also positively contribute to the establishment of your brand's credibility, up to date strategies can be implemented in order to build your brand and cement your online presence. The result is your brand will become visible to all those who want to find you through search, whether that's through brand related search or locally based keywords with user intent.
With increasing numbers of people turning to the internet for reviews and opinions as part of their research process before committing to making a purchase, securing online reviews for your business is an excellent way to stand out from your competition. We will help you make it as simple as possible for your customers to leave reviews (by taking steps to integrate such calls to action within email marketing strategies for example). This will place your business in the strongest position possible for positively influencing the purchasing decisions of your future potential customers.
Search Engine Optimization
Every small or multi-location company can grow their business and attract more customers using local SEO strategies. In this local SEO guide we explain what local search optimization is, and why using a local SEO company can help improve your online visibility.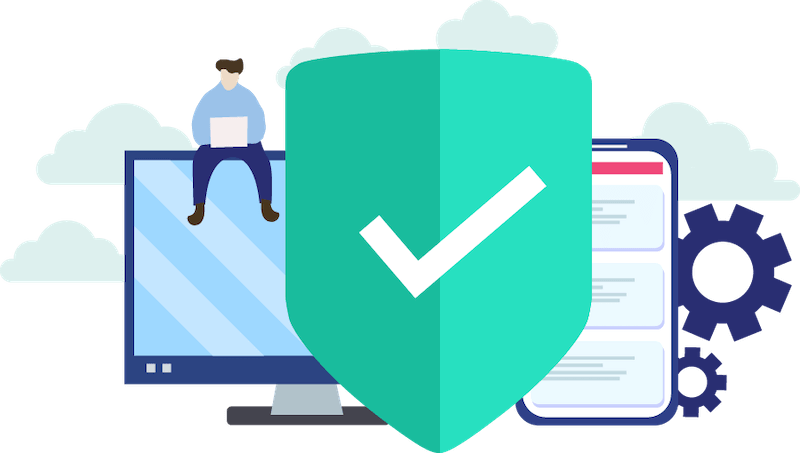 Why is Local SEO important?
Searches conducted using mobile devices (which tend to have more local intent) are increasing consistently. Mobile searches are overtaking desktop searches with over 51% in 2016, which has increased from less than 5% in 2010. Factor into this the fact that Google data shows 50% of mobile users visit a local business within one day of conducting their search with 18% go on to make a purchase (this compared with 7% from searches without local intent) and it's not hard to see the importance of local SEO
Do I Really Need A Google My Business Page?
At a time when people are increasingly reliant on search engines to deliver highly relevant and timely results to their queries, making sure that you create and maintain a local search presence as and when your potential customers require your product or service is key to business growth and conversion rates.
Understanding how many visitors to your Google My Business profile go on to interact with your content, make direct contact with your customer service team, or commit to a purchase will help us to understand precisely how effectively our digital approach is working for your business. This will help to inform any adjustments or refinements that may be required to effectively market your business, reach a target audience highly receptive to your products, services or messages and demonstrate your inherent localised value over that of larger corporations.
of Google searches choose a business from the 1st page
of Google searches are looking for information
of local customers use search engines to find information on businesses
of customers learn more about a business online than anywhere else
of searches for local businesses on mobile result with a call or visit within 24 hours
'Near Me' or 'Close By' searches have increased over 900% in the last 2 years
How Healthy Is Your Google My Business Page?
The data says it all, Google My Business Optimizations are crucial for your businesses success in 2019 and beyond, no matter what niche you are in.
Enter your contact details below to receive your FREE detailed audit report and action plan for your Google My Business listing!
How Healthy Is Your Google My Business Page?
The data says it all, Google My Business Optimizations are crucial for your businesses success in 2019 and beyond, no matter what niche you are in.
Enter your contact details below to receive your FREE detailed audit report and action plan for your Google My Business listing!